FUAGO Partner Meet-Up Vol. 2
FUAGOs 2nd Partner Meet Up in Hamburg: A Day of Exciting Insights and Collaborative Innovation
Hamburg, 11.10.2023
When the doors swung open at 12pm on October 11th, a wave of excitement and anticipation filled the air. It was the day of FUAGO's 2nd Partner Meet Up, held in the vibrant city of Hamburg, Germany.
Partners, tech enthusiasts, and industry leaders had gathered for an event packed with insightful talks, networking opportunities, and a shared passion for advancing technology.
With sponsors such as Open-Xchange, OpenTalk, audriga, LWsystems, and Droxic, it promised to be a day of learning and collaboration.
The event kicked off with a warm welcome to all attendees, followed by an introduction of the generous sponsors who made this event possible.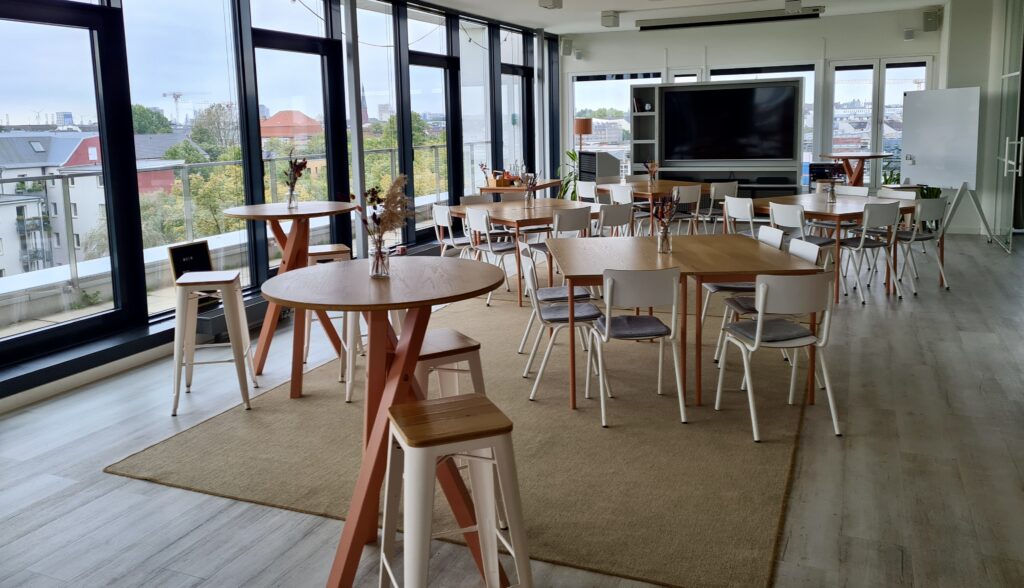 How Secure Is Our Communication? Confidentiality in Video Conferences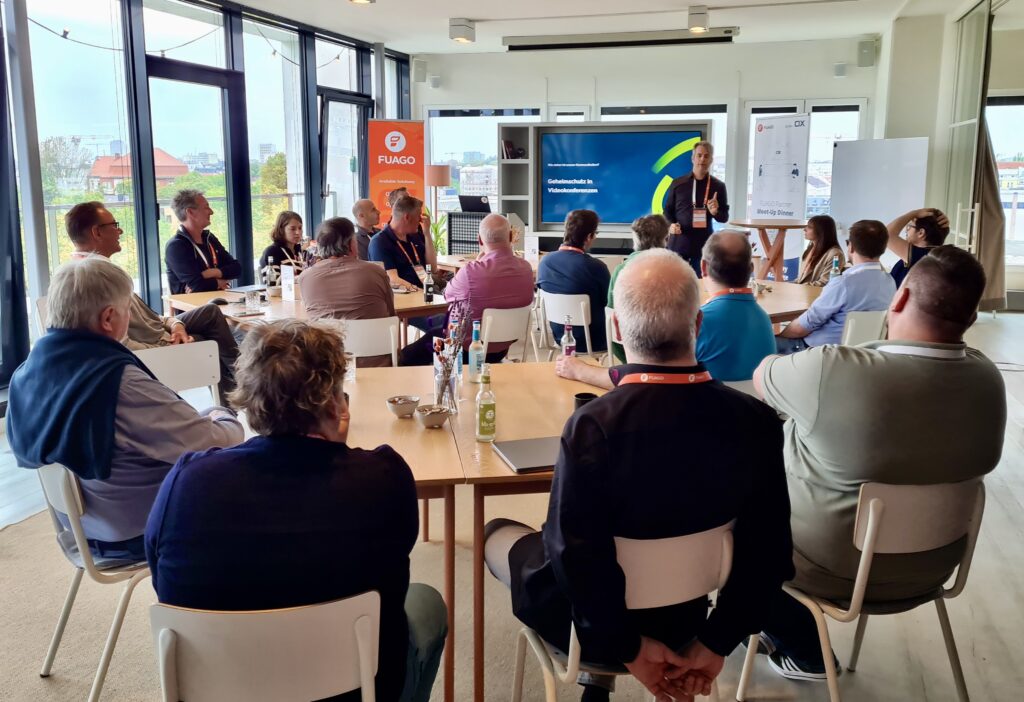 Peer Heinlein's talk "How Secure Is Our Communication? Confidentiality in Video Conferences," primarily focused on the security aspects of video conferencing, particularly within the context of the OpenTalk platform. It dived into the crucial intersection of confidentiality and national security within the realm of video communication. The presentation likely shed light on how OpenTalk's video conferencing solution addresses these important security considerations, ensuring that sensitive information and national interests remain safeguarded in an era where remote communication has become increasingly prevalent.
OX Cloud – What's New
Tugce Hakan, Open-Xchange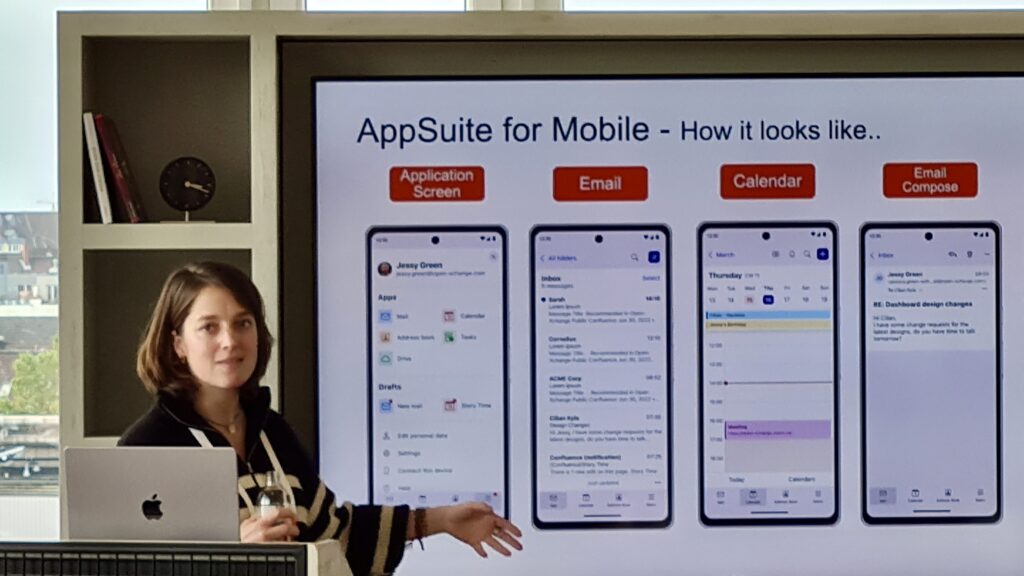 Jan Tran from Open-Xchange, unveiled their latest news and roadmap. Attendees were treated to a glimpse of the exciting developments in store for their products and services. The talk revolved around the integration of AI in OX Cloud. In a rapidly evolving digital landscape, Progressive Web Apps (PWAs) are gaining momentum. The session on 'Mobile for AppSuite' presented by Tugce Hakan from Open-Xchange gave attendees valuable insights into the future of user experience.
Legal Requirements for AI with LR29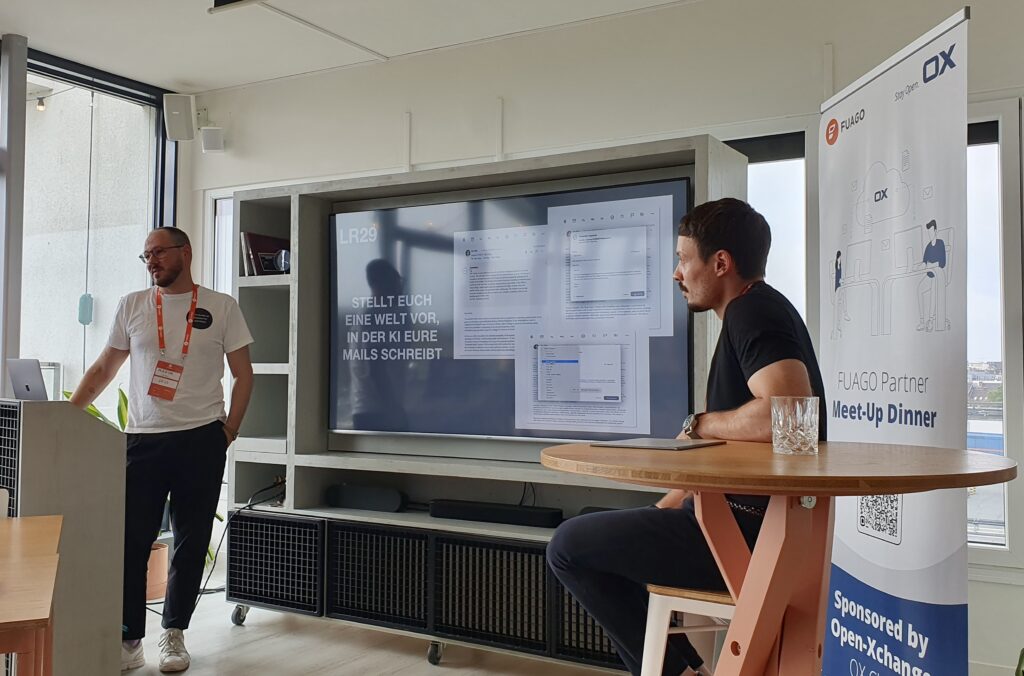 Eduard Hofert, LR29
Maxim Letski, LR29

Maxim Letski and Eduard Hofert, who are well-versed in Open Source and SaaS law, shared some valuable insights with the audience. They had a chat about the complicated world of AI-related legal rules, making it easier for partners and tech fans to wrap their heads around the sometimes tricky legal stuff involving AI. This is extra important considering all the current legal tangles in Europe, especially following from the GDPR and the upcoming EU AI Act. Rules and policies related to AI are always changing and bringing new puzzles for businesses and creative minds to solve.
Panel | Mail Archiving in the Cloud
Sascha Zucca, FUAGO

Ansgar Licher, LWsystems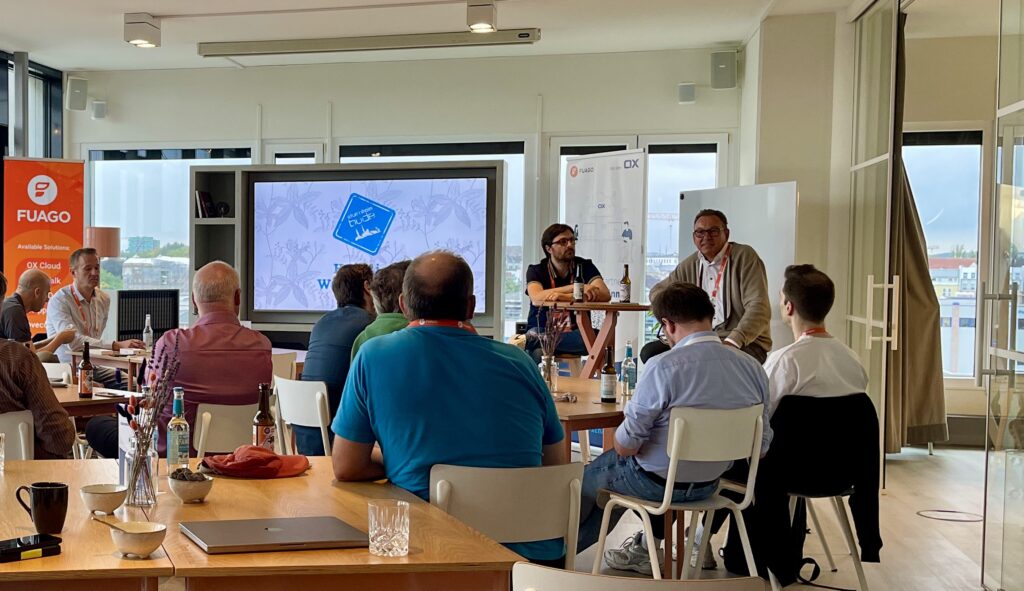 During the panel discussion, Sascha Zucca from FUAGO and Ansgar Licher from LWsystems jointly explored the Benno Mail archiving solution, which is already available for use. Although it's not yet integrated into OX Cloud, plans are in place for future integration. This presentation left the audience with a heightened awareness of the current capabilities of this archiving solution and the promising future it holds as part of OX Cloud, emphasizing the importance of robust data management in the cloud.
Migration Success Story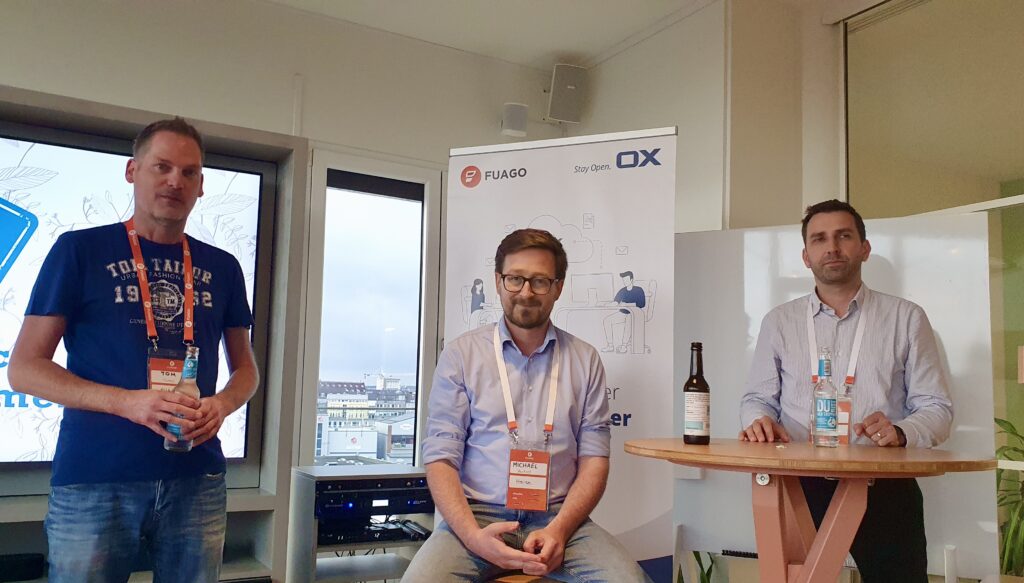 Michael Herfort, Heise
Frank Dengler, audriga
Thomas Teves, FUAGO


Audriga's Migration Success Story highlighted the challenges and innovative solutions associated with data migration in the contemporary cloud-based environment. The presentation shared a remarkable success story involving Heise, which faced the daunting task of migrating 1500 mailboxes from their previous vendor to OX Cloud, and notably, this had to be accomplished within a tight three-month timeframe and without password data.
Despite the demanding nature of this migration, the collaboration between Frank Dengler from Audriga, Michael Herfort from Heise, and Thomas Teves from FUAGO proved to be highly successful. The panel showcased that with thorough planning, expert guidance, and efficient tools and strategies, even complex data migrations can be executed seamlessly in the modern cloud era. This success story served as an inspiring example for all attendees, emphasizing the importance of careful planning and the value of partnerships in overcoming challenges.
Collaborative Networking
Besides the informative talks, the FUAGO Partner Meet Up provided a fantastic platform for attendees to network, discuss innovative ideas, and establish valuable connections. The event brought together a diverse group of professionals, from tech enthusiasts to industry experts, creating an atmosphere where new partnerships and collaborations flourished.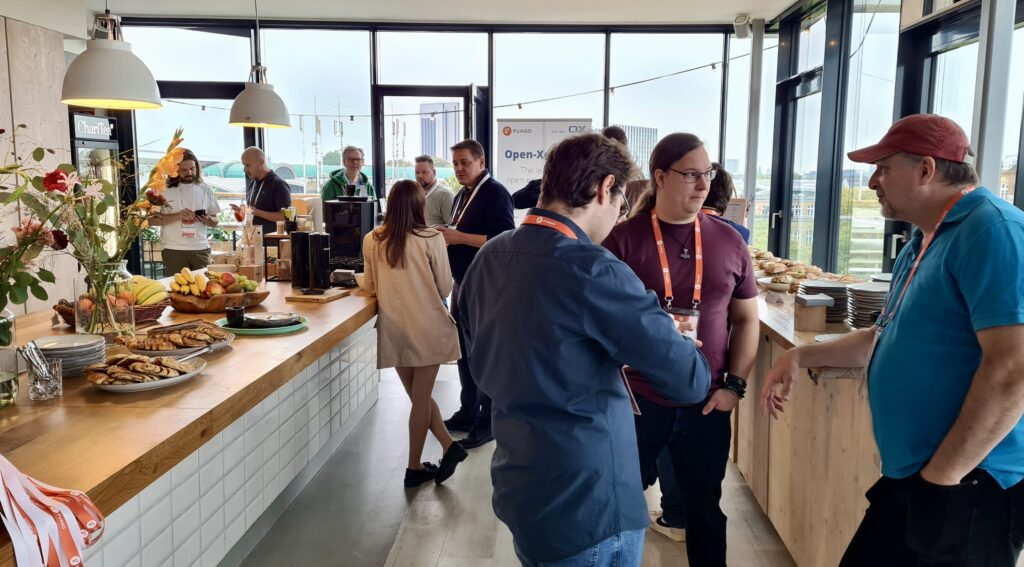 Wrapping it up!
The FUAGO Partner Meet Up in Hamburg was a resounding success. With sponsors showcasing their latest developments, speakers shedding light on the AI landscape, and discussions on legal compliance, it was a day packed with insights and inspiration. The event proved to be a vital meeting point for the tech community, fostering collaborations and paving the way for a brighter, more innovative future in the world of technology.
As the doors closed on this year's event, attendees left with fresh ideas, new connections, and an invigorated passion for technology. We look forward to seeing how the knowledge shared at this Meet Up will shape the future of the tech industry, and eagerly anticipate FUAGO's 3rd Partner Meet Up.
Stay tuned for more exciting developments in the ever-evolving world of technology.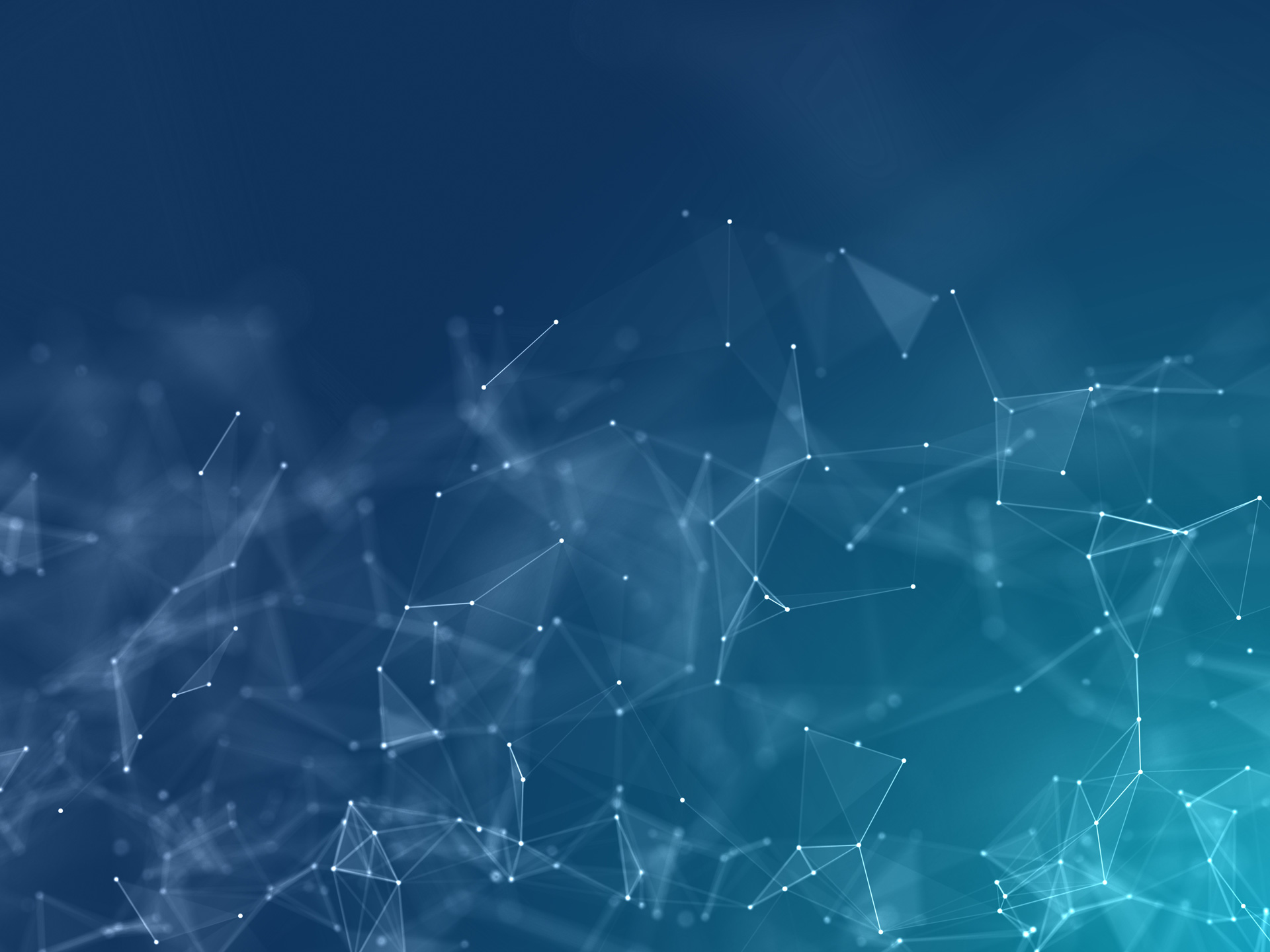 Sounds interessing?
Get in Contact.
Just fill out the form or call us.